There's no denying the rising popularity of vegan burgers. Adopting a plant-based diet may have meant saying goodbye to succulent burgers a decade ago, but today, there are more options than ever before! If you've got a burger craving that needs to be conquered, you're sure to find the perfect patty – without an animal product in sight – at your local supermarket, restaurant or fast-food chain.
Luckily for you, we're here to make finding the tastiest vegan burgers on the high street easier than ever. With our handy guide, you're just a few steps away from munching on a meat-free burger!
The Tastiest Vegan Burgers on the High Street
From fast-food chains to coffee shops, mock chicken to pork-style patties, we've compiled a list of the most delicious vegan burgers available and where to find them. Enjoy!
KFC's Original Recipe Vegan Burger
Until recently, KFC was one of the few fast-food chains that hadn't tapped into the plant-based market. Then, it launched its Original Recipe Vegan Burger, a 100% plant-based burger meal that gives KFC's famous chicken burger a run for its money.
This burger is truly delicious, without going over the top when it comes to flavour or toppings. It's a no-fuss QUORN™ patty coated in KFC's secret blend of herbs and spices, and sandwiched between two halves of a sesame bun. With every bite, you'll also get a crunch of lettuce mixed with the creaminess of KFC's vegan mayonnaise.
It's worth noting that KFC's fries aren't technically vegan. This is because they're cooked in the same oil as chicken.
You can find the nearest KFC selling the Original Recipe Vegan Burger here.
Burger King's Vegan Royale
Unlike KFC, the fries at Burger King are vegan – meaning they're the perfect accompaniment to Burger King's tasty Vegan Royale! Burger King's vegan burger has even been certified by the Vegan Society, so you can rest assured that it's completely cruelty-free and doesn't contain a single animal product.
The Vegan Royale, like the Original Recipe Vegan Burger, pairs a crispy, chicken-style patty with lettuce, mayo and a sesame seed bun. The main difference is that Burger King's vegan burger is made with the help of The Vegetarian Butcher, which is celebrated for its range of plant-based goodies.
You may be thinking, doesn't Burger King offer two vegan burgers? Well no, not exactly. Burger King does offer a Plant-Based Whopper with a 100% vegan recipe, however, it's grilled alongside beef.
McDonald's McPlant
As of October 2021, there's a new vegan burger in town! The new McPlant from McDonald's can be found at more than 250 restaurants across the UK, and is set to be sold nationwide from January 2022. If you're a vegan who misses tucking into McDonald's, you're in for a treat.
The McPlant is a beef-style burger, topped with dairy-free cheese and vegan mayonnaise. It's also served in a bun with lettuce, tomato, onion and gherkins – everything you'd expect from a McDonald's hamburger!

You can also enjoy a hearty portion of McDonald's golden fries with your McPlant burger. The fast-food restaurant has confirmed that its fries are now vegan, as they're no longer cooked in animal fats.
What are you waiting for? Take a look at the McDonald's restaurants serving McPlant burgers here.
Honest Burger's Plant or Bacon Plant
There's nothing like a juicy vegan burger from your favourite fast-food restaurant – but every now and then, tucking into something a little more high-end feels good! If you're in the mood for a truly premium burger, why not take a trip to your local Honest Burger restaurant?
Honest Burger, which you'll find in London, Bristol, Brighton, and many of the UK's other major cities, offers two tasty vegan burgers. Will you choose the Plant, a mock beef burger with vegan gouda, mustard and pickles? Or, will you opt for the Bacon Plant, with a generous serving of THIS™ Isn't Bacon?
Whatever you're craving, don't forget to enjoy a portion of rosemary salted fries on the side! Honest Burger also pulls pints of PowerPlant, a vegan lager that's sure to pair nicely with any burger.
Gourmet Burger Kitchen's Vegan Burger
Gourmet Burger Kitchen doesn't have a single vegan burger on the menu...it has three! You'll be spoilt for choice with the selection of vegan burgers available at this popular joint, which offers something for every taste and preference.
If you're all about bean and vegetable patties, you'll love the Classic Vegan and Californian. The Californian is a slightly more adventurous choice with Applewood cheese, smashed avocado and paprika onions, while the Classic Vegan keeps it simple with mayo and salad.
For the fake meat fans out there, GBK's The Beyond & Cheese burger is an obvious choice. A Beyond Meat patty smothered in gooey vegan cheese, mayo and relish, this perfectly indulgent burger will entice even your most stubborn non-vegan friends.
Check out the menu for yourself here!
Starbucks' Plant-Based Breakfast Sandwich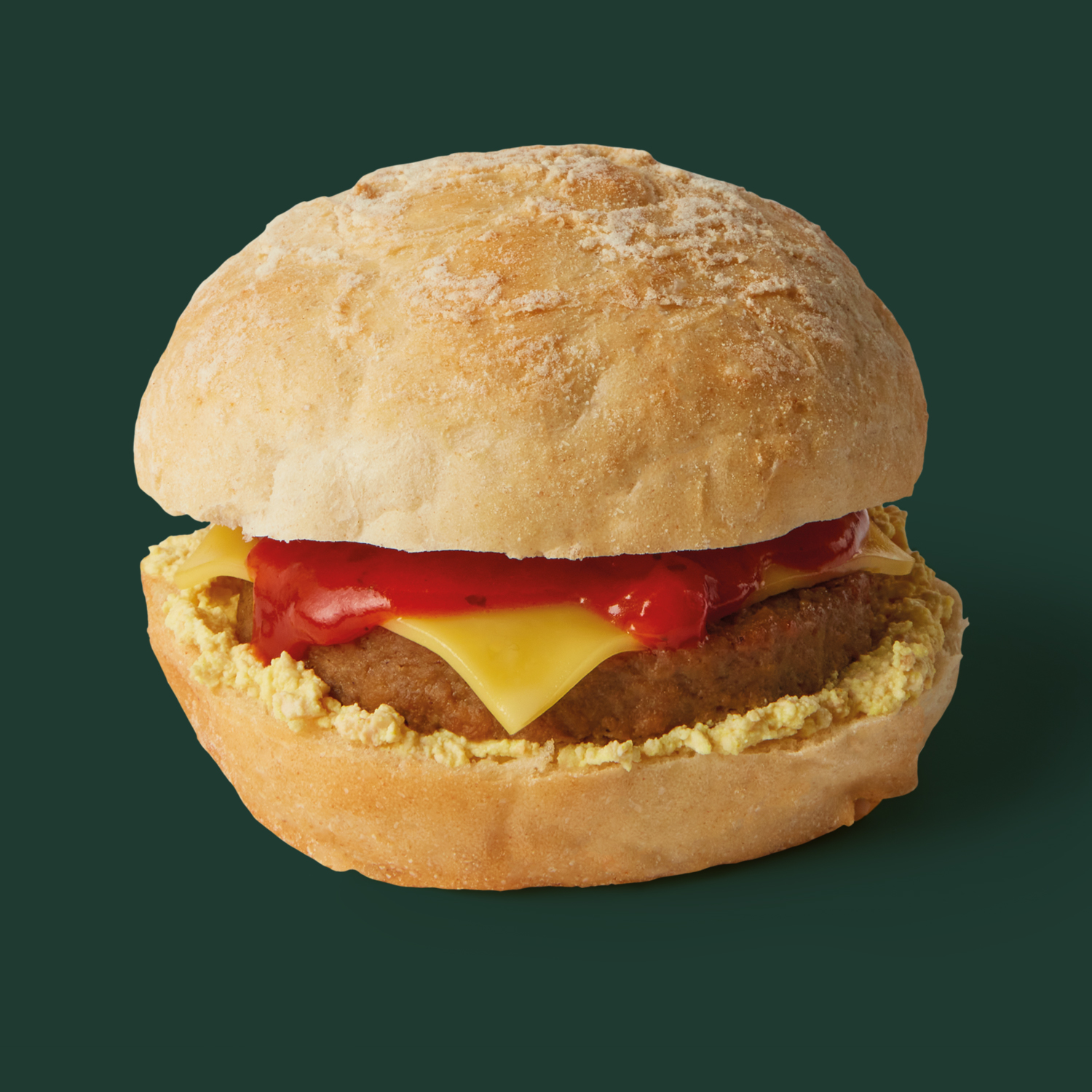 Ever fancy a burger for breakfast? Thanks to Starbucks, you now can. The Plant-Based Breakfast Sandwich from Starbucks is a must-try for those early morning cravings. It may not be your typical burger, but it still promises to tantalise your taste buds.
The Plant-Based Breakfast Sandwich offers everything you could expect from the ultimate breakfast burger: a vegan sausage patty, a plant-based egg made from mung beans, and of course, oozing dairy-free cheese. Paired with a coffee, this sandwich is the perfect way to start the day!
This isn't the only vegan offering from Starbucks, which also serves a selection of plant-based wraps, baked goods, and fresh fruit pots. You'll also be able to enjoy a coffee with your plant milk of choice, such as oat milk or soya. Yum!
---
Feeling hungry? We're not surprised! Maybe your mouth is watering at the thought of the new McPlant, or perhaps you've got a penchant for the plant-based options at Starbucks. We'd love to know which of these burgers takes your fancy, or whether you're craving something different. Get in touch to share your thoughts!