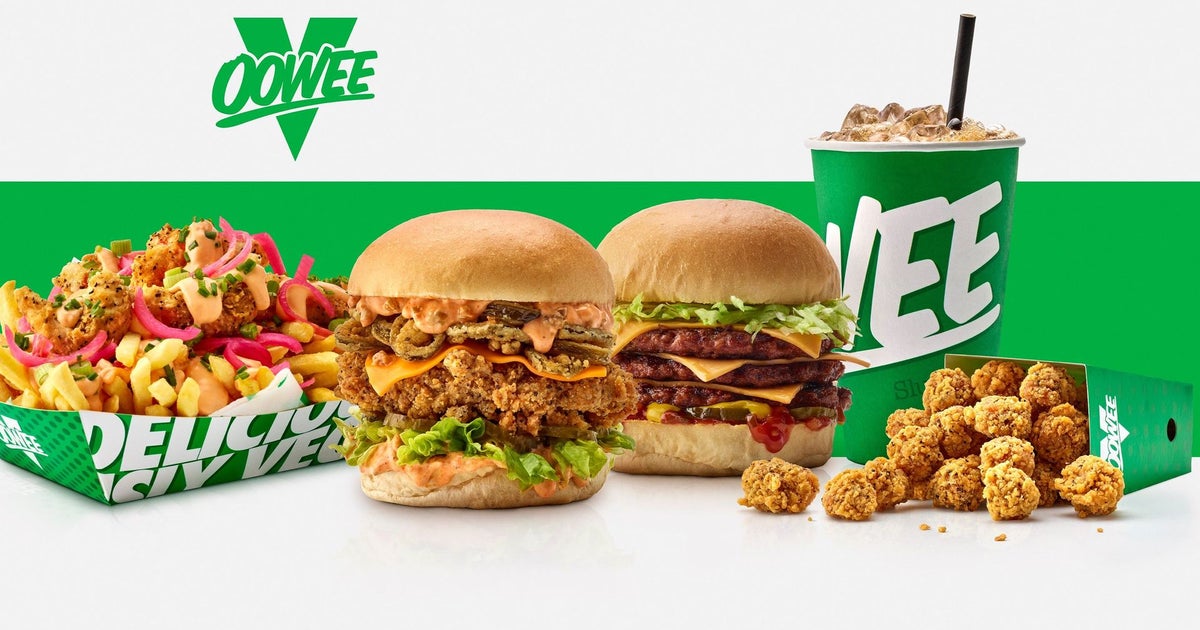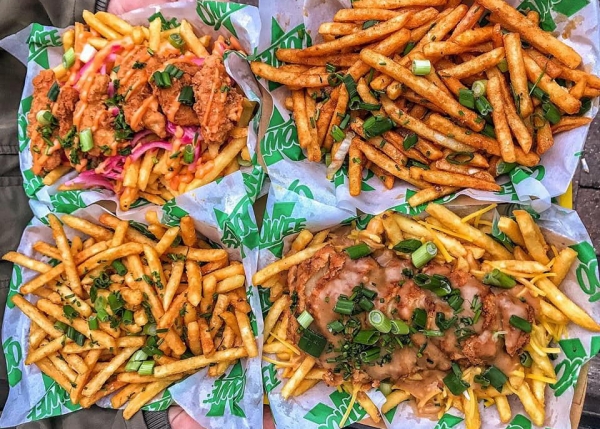 If you're into dirty burgers and generously topped fries, you'll have the time of your life at Oowee Vegan – one of the UK's favourite plant-based junk food restaurants. With branches in Bristol, London, Brighton and Manchester, Oowee Vegan is slowly but surely bringing its delicious menu to all corners of the country – and we're certainly pleased about it. So, what exactly makes Oowee Vegan so special, and more importantly, what's on the menu?
Oowee Vegan: What's the Deal?
Oowee Vegan is all about revolutionising vegan junk food, and it's doing a great job. This isn't the restaurant for you if you're on a health kick, but it is the restaurant for you if you're a burger lover in the mood for something indulgent! Oowee Vegan prides itself on preparing tasty junk food that just happens to be vegan, with a menu of goodies that are sure to tempt even the most stubborn of meat-eaters.
Just because the team sells junk food, it doesn't mean their dishes are necessarily 'fast'.  They make their mock chicken from scratch, freshly prepare their menu of delicious sauces, and source their buns from local bakeries. What's not to love?
If you live in Bristol, you've probably visited Oowee Diner before – but the two restaurants aren't quite the same. Although they're part of the same family, Oowee Diner isn't exclusively plant-based. It does offer a great selection of vegan options, but Oowee Vegan's menu is much more extensive.
What's on the Menu at Oowee Vegan?
Oowee Vegan's menu is second to none! It's jam-packed with decadent dishes, from burgers to KFC-inspired popcorn chicken and dirty fries. There are too many goodies to list, so here are some of our top recommendations.
Oowee Vegan's Chicken Burgers
Oowee Vegan's mock chicken burgers are some of the tastiest we've tried. Here are three of our favourites!
Flamin' Hot Clucker
Imagine breadcrumbed mock chicken with spicy mayo, jalapenos and gherkins, and you've got the Flamin' Hot Clucker!
The Baconator
Bacon fans, this one is for you. Mock bacon, bacon mayo and smoked dairy-free gouda are the dreamiest toppings for this vegan chicken burger.
BBQ Cluckin Sandwich
Subtly sweet barbeque sauce paired with onion rings and American-style dairy-free cheese make this an oh-so-tempting treat.
Oowee Vegan's Beef Burgers
Oowee Vegan's menu features the one and only Beyond Meat with a selection of succulent beef-style burgers.
Classic Cheeseburger
A true classic, the cheeseburger gets a plant-based makeover with a juicy patty, relish, mustard and gherkins. You can even get it triple-stacked if you're feeling brave.
BBQ Smokestack
The BBQ Smokestack is bound to kick your barbeque cravings, with onion rings, gherkins and American cheese just a few of the toppings you'll bite into.
The Big VG
Sweet pickled pink lettuce, garlic mayo and smoked gouda pair perfectly in this decadent mock beef burger.
Popcorn & Vegan Chick'n
Looking for bite-sized treats to enjoy on the side of a burger and fries? Oowee Vegan's menu has you covered!
Popcorn Shrimp
Proving that vegan food is becoming more and more realistic, Oowee Vegan's Popcorn Shrimp is a must-try for anyone missing seafood.
Popcorn Chick'n
A box of these battered mock chicken bites is sure to be the cherry on top of any meal at Oowee Vegan!
Chick'n Tenders
Fancy the sound of chicken-style tenders in a crispy batter? Yes, please!
Vegan Dirty Fries
Vegan food doesn't have to be plant-based. In fact, there doesn't even need to be a vegetable in sight – as proved by Oowee Vegan's menu of dirty fries!
Marmite Butter Fries
If you're on the 'love' side of the great Marmite debate, these buttery fries will certainly tantalise your taste buds.
Sriracha Shrimp Fries
Deliciously coated mock shrimp with lashings of sriracha and pickled pink onions make these dirty fries a must-try.
Garlic Butter Fries
We love garlic, and we love butter – so it's no surprise that these flavoursome fries make our list of favourite side orders.
Vegan Sides & Desserts
No Oowee Vegan burger is quite complete without a selection of Instagram-worthy sides!
Mac n' Cheese
You'll love this American-style macaroni with crispy onions and melted vegan cheese, the perfect dish to dunk your fries into.
Tater Tots
Salty, golden and fluffy on the inside, we think Tater Tots should be served with every Oowee Vegan burger.
Waffle Fries
These waffle-cut fries are simply too good to share. Did you know that you can choose between waffle and standard chips when ordering a portion of dirty fries?
Churros
Fancy a sweet treat after a juicy burger? Churros are the ideal dessert to top off a lunch or dinner at Oowee Vegan.
Vegan Shakes
Alongside all the regular soft drinks, such as lemonade and Coca-Cola, Oowee Vegan whips up a range of creamy shakes – with mouth-watering options like Biscoff, Popcorn and Oreo to choose from. Which will you go for?
Where to Order Oowee Vegan
Now that you've eyed up the menu and figured out exactly what dishes you want to get your hands on, it's time to find your local Oowee Vegan. Below, check out where in the UK you can visit this plant-based haven.
Oowee Vegan Bristol – With two branches in bustling Bristol, there's no excuse not to visit if you live in the South West.
Oowee Vegan London – Find your fill in Dalston or Brixton, the two London homes of Oowee Vegan.
Oowee Vegan Brighton – Conquer your burger cravings by the coast thanks to Brighton's best burger restaurant.
Oowee Vegan Manchester – Order Oowee Vegan via Deliveroo for a mouth-watering munch in Manchester.
Did you know that you can also order Oowee Vegan on Deliveroo in Bristol, London and Brighton? Everyone knows there's nothing better than tucking into a burger on the sofa, and thanks to Deliveroo, you can get Oowee Vegan's burgers, sides and shakes delivered to your doorstep.
Here at Vegomm, we like to make it easier than ever for vegans and non-vegans alike to get their hands on the tastiest plant-based food in the country! That's why we've put together a series of guides, from where to find the best burger on the high street to vegan recipes and meal ideas for beginners. Get in touch to let us know your vegan food recommendations.