If you're anything like us, you'll love waking up on the weekend and cooking a full English breakfast, or spending your summer evenings grilling veggie kebabs on the BBQ. And, now that vegan sausages have come a long way, you no longer need to miss out on all your favourite dishes! From sausage sandwiches at lunch to sausage casserole for dinner, there's no end to the recipes you can try with meat-free pork alternatives. You'll no doubt have heard of Richmond vegan sausages – but what do you need to know before you give them a try?
Note: Please always double-check the dietary and allergen information of the products listed in this article before buying and consuming them.
Everything You Need to Know About Richmond Vegan Sausages
Richmond has been one of Britain's favourite sausage brands since the 1980s, and to this day you'll see packets of Richmond sausages in almost every supermarket. So, vegans everywhere were delighted when Richmond turned its sights to cracking the plant-based market! Below, find everything you need to know about Richmond vegan sausages and why they're a must-have addition to your fridge.
Are All Richmond Sausages Vegan?
It's important to note that not all Richmond sausages are vegan. Please be careful when picking up a packet of Richmond sausages and don't forget to double-check that the packaging states 'meat-free'. They'll usually be kept separate from real pork sausages in the supermarket and stored alongside other vegetarian and vegan products, but it's worth checking nonetheless.
Are Richmond Meat-free Sausages Tasty?
We think they're delicious! Of course, you'll need to try them to see for yourself. However, in terms of taste and texture, they're truly mouth-watering. In fact, in this comparative review of vegan sausages – comparing those from Quorn, Linda McCartney, Sainsbury's and Richmond – it was Richmond that stole the show!
Richmond Vegan Sausages: What Are Their Ingredients?
According to the Richmond website, their meat-free sausages contain the following ingredients:
Water, Rehydrated Textured SOYA Protein Concentrate (16%) (Water, SOYA Protein, WHEAT Protein, Salt, SOYA Bean Oil, Natural Flavouring), Rusk (WHEAT), Coconut Oil, SOYA Protein Concentrate (4%), Chicory Root Fibre.
As they contain wheat, they are not gluten-free.
How Many Calories Are in Richmond Vegan Sausages?
Wondering how many calories are in a Richmond vegan sausage?
According to Tesco, two grilled Richmond vegan sausages (79g) contain 115 calories. This is in comparison to 111 calories for just one Richmond pork sausage (46g).
Are Richmond Vegan Sausages Healthy?
The health benefits of veganism are clear, but that's not to say that all vegan products – particularly mock meats – are nutritionally valuable. When eaten in moderation, all products can form part of a balanced diet, including Richmond vegan sausages. Nevertheless, they still contain fairly high levels of salt and fat and should be eaten as a treat.
Where Can I Buy Richmond Vegan Sausages?
You can buy Richmond vegan sausages from most major supermarkets, including Tesco, Asda, Sainsbury's, Morrisons and Waitrose.
What Recipes Can I Use Richmond Vegan Sausages In?
There are plenty of delicious recipes to cook with Richmond vegan sausages. You can use them as a substitute in any recipe that uses pork sausages, whether it's a sausage butty, bangers and mash, barbequed sausages or sausage rolls. However, if you'd like to get a little more creative, you can prepare a range of other dishes.
Richmond offers a selection of recipes to inspire you, each using their famous vegan sausages.
Why not try this meat-free sausage, spinach and tomato pasta?
Or, how about 'veganising' this sausage, roasted veg and puy lentil one-pot recipe from BBC Good Food?
Meat-free sausages can also be cooked in pies, used in toad in the hole, or flattened into patties for a tasty breakfast bun.
Does Richmond Sell Any Other Vegan Products?
Yes! Richmond vegan sausages may be the most famous product from the brand's meat-free range, but they're not the only goodies suitable for vegans. You can also buy vegan bacon, meatballs, burgers and mince from Richmond, although they're not yet as widely available in supermarkets. We hope this will change soon!
Other Vegan Sausage Brands
Vegan sausages aren't exactly few and far between these days! In fact, there are myriad brands with truly mouth-watering and 100% meat-free products available to buy in-store and online. Whether you're a fan of vegan sausages that offer the taste and texture of real pork, or you prefer vegetable-based patties that are slightly less processed, there's a brand for you.
Below, we've listed some of the most popular vegan sausages available to buy in the UK:
Quorn Brilliant Bangers
Quorn has been dominating the meat-free market for some time now. And, although not every Quorn product is vegan-friendly, the Brilliant Bangers are both suitable for vegans and incredibly delicious.
Cauldron Sausages
Cauldron is another brand that has been making vegan food accessible for a while, with plenty of different meat-free sausages amongst its extensive range. From Lincolnshire-style sausages with sage and parsley, to Cumberland sausages seasoned with black pepper, there are lots of options to choose from when you buy from Cauldron.
Asda Plant Based Sausages
Alongside selling a wide selection of vegan products from other brands, Asda also offers its own Plant Based range – and its meat-free sausages are certainly worth trying! They're both vegan and gluten-free, with an accreditation from The Vegan Society.
THIS™ Isn't Pork Plant-based Sausages
We love THIS™ products, and these mock pork sausages will show you why! They're rich in protein and fibre while being low in saturated fat, making them the perfect plant-based alternative to real pork bangers.
Plant Pioneers Shroomdogs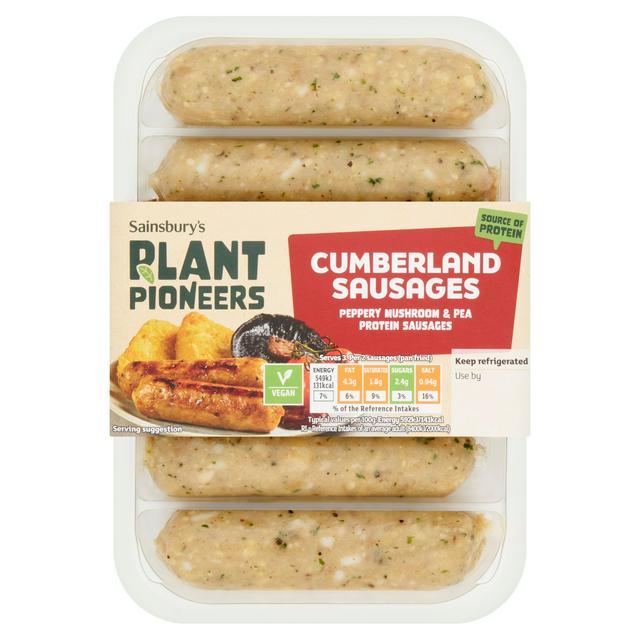 Sainsbury's Plant Pioneers range is growing quickly, which is great news for UK vegans! In particular, the Plant Pioneers Shroomdogs – made from mushrooms, hence the name – are certainly worth a try, with a subtle peppery flavour that pairs perfectly with ketchup.
Beyond Meat Sausage
You've probably heard of Beyond Meat burgers, but the brand's range of sausages is just as tempting. With Beyond Meat being an American company, buying its products in the UK can be a little more expensive – but it's definitely worth it!
What are your favourite plant-based bangers? Have you tried Richmond vegan sausages? We'd love to know your thoughts!