Did you know that in Britain, we eat just under 700,000 tonnes of chocolate a year? Yep, it's fair to say we love the stuff! And, for vegans, it's never been easier to kick your chocolate cravings. Although vegan chocolate used to be sold exclusively in health shops for eye-watering prices, you can now pick up a range of delicious bars, cakes and spreads at your local supermarket. Plus, with online retailers like the Vegan Kind Supermarket, you can order all your favourites straight to your doorstep.
The Best Vegan Chocolate Products in the UK
Whether you're a vegan looking for new products, or you're new to plant-based living and don't know how to get started, we've got everything you need. Here's our guide to some of the tastiest vegan chocolate items available in the UK – perfect for kicking your cocoa cravings.
Please don't forget to read the dietary and allergen information of any products you purchase. Manufacturers sometimes change their recipes so it's always important to double-check.
Vegan Chocolates & Bars
Galaxy Vegan Chocolate
When Galaxy finally brought out the vegan version of its oh-so-tasty chocolate bar, it really changed the game. Now, you can get your hands on five flavours of Galaxy's vegan chocolate – including Smooth Orange, Caramelised Hazelnut, and Caramel & Seasalt – alongside limited edition treats, such as Gingerbread Crumble.
These are available from most supermarkets or the Galaxy website, here.
Vego
Packed with whole hazelnuts, Vego is a deliciously creamy vegan chocolate bar that's difficult to distinguish from traditional dairy milk options. Original Vego is irresistibly good, but Vego White and Vego Dark Nuts & Berries should also make your must-try list.
You can get your hands on Vego at most supermarkets or directly from the website.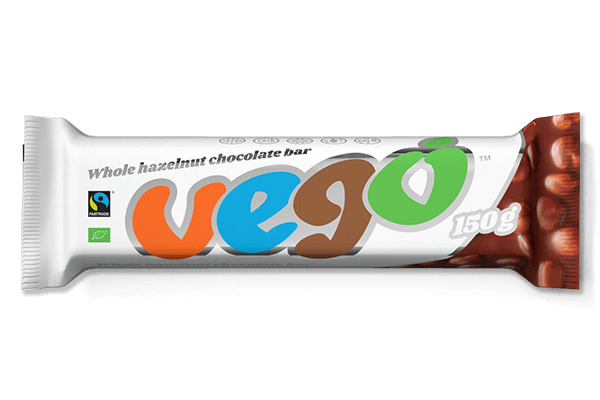 NOMO
NOMO is a fairly recent addition to the world of vegan chocolate, but it's making waves. NOMO chocolate bars are free from dairy, gluten and nuts, meaning they're perfect for anyone with a range of dietary requirements. Plus, with seasonal treats like these Cookie Dough Reindeers, NOMO has you covered at every time of year. 
Moo Free
Moo Free is the home of vegan chocolate, with everything from "Moofreesas" (imitation Maltesers) to chocolate chips for baking.
You'll also find chocolate bars in almost every flavour, including cinder toffee, mint and sour cherry.
With such a wide range of vegan chocolate treats to choose from, your best bet is to stock up and order directly from the Moo Free website!
Doisy & Dam
If you're a fan of dark chocolate, you'll love all that Doisy & Dam has to offer! From velvety smooth chocolate buttons to Dark Chocolate Ballers, there's a wide range on offer. These are perfect to keep in your snack cupboard, to enjoy in the cinema, or to take on a picnic.
You'll find Doisy & Dam in health food shops, such as Holland & Barrett, alongside local delis, Ocado and Sainsbury's.
Love Raw
Thanks to Love Raw, you can now enjoy vegan versions of all your favourite filled chocolate products – from peanut butter cups to Kinder Bueno-style wafers. We particularly love their White Choc Cre&m Wafers, stuffed with a deliciously creamy hazelnut and almond filling. Great-tasting vegan white chocolate isn't quite as common as milk and dark alternatives, which is what makes these bars such a treat. You can find LoveRaw at ASDA, Co-op and Boots.
Cadbury Plant Chocolate Bar
Cadbury released its Plant Bar in late 2021, and it was certainly worth the wait.
Made with almond paste, Cadbury's melt-in-your-mouth vegan chocolate bar is now available at ASDA and Sainsbury's.
We're longing for Cadbury to release as many flavours as Galaxy, but we know what we'll be snacking on while we wait!
Vegan Chocolate Spread
Vego
Once you've had your first taste of Vego chocolate, you'll certainly be wanting more. Luckily for you, Vego also sells its own crunchy vegan chocolate spread – and it's one of the best plant-based alternatives to Nutella. This vegan and gluten-free spread (perfect on toast!) can be found at Holland & Barrett, at your local ASDA, or online here.
Plant Kitchen
The Plant Kitchen range from Marks & Spencers is full of hidden treasures, including this ultra-smooth vegan chocolate spread. Unlike lots of chocolate spreads available, this one – available from your local M&S or online at Ocado – is made without palm oil.
Violife Cocoa Spread
Violife is best known for its vegan cheese range, but this delicious Cocoa Spread also deserves a place in your kitchen. This offers a slightly lighter, more whipped consistency than other chocolate spreads and is lower in sugar, fat and calories.
Plus, it's fortified with B12, a vitamin that's hard to come by naturally with a plant-based diet. You can get your hands on the Violife Cocoa Spread here.
Vegan Hot Chocolate Bombs & Melts
Buttermilk
There's nothing better than curling up on the sofa with a mug of something hot and sugary, and this vegan hot chocolate bomb from Buttermilk ticks all the boxes.
All you need to do is heat a mug of your favourite plant-based milk, let the bomb melt, and enjoy the delicious combination of chocolate and marshmallows.
Yum! You'll find the vegan hot chocolate bomb from Buttermilk here and at your local big Sainsbury's.
Mummy Meagz
Holland & Barrett is home to a surprising number of plant-based goodies, including this vegan hot chocolate stirrer from Mummy Meagz.
Once you've stirred this decadent treat into a mug of warm milk, why not enjoy it with a squirt of vegan whipped cream?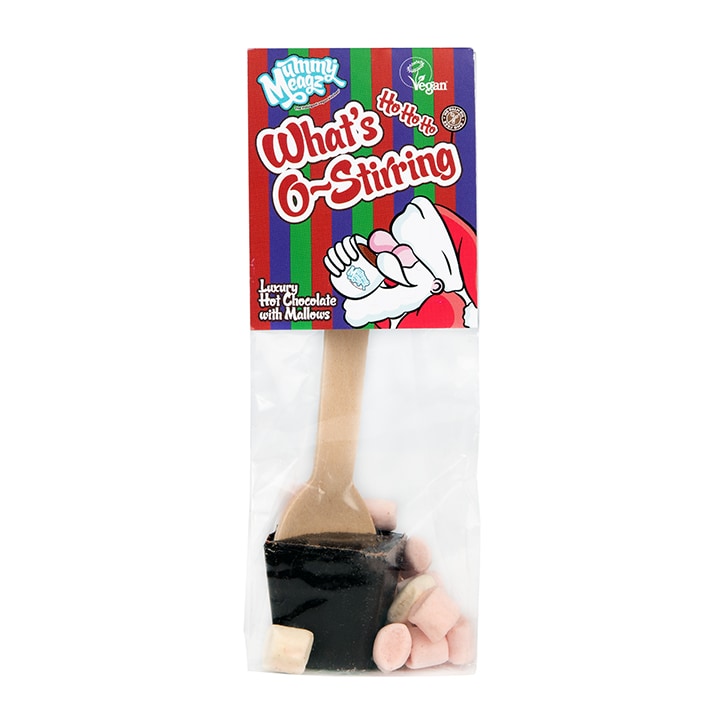 Hotel Chocolat Nutmilk
For an even more indulgent alternative to hot chocolate powder, try the 45% Nutmilk Hot Chocolate from Hotel Chocolat. When whipped in a Velvetiser, Hotel Chocolat describes this as "liquid praline", which is certainly enough to get our mouths watering!
If you don't have a Velvetiser, you can simply melt your Nutmilk in a pan with your favourite plant-based milk. Get yours here.
From vegan chocolate spreads to vegan hot chocolate bombs, there are plenty of plant-based treats now available online, from independent retailers, and of course, your local supermarket. Which will you try first?