Today, buying dairy-free milk is as easy as picking up a litre of cow's milk. We're not kidding! You can visit almost any shop in the UK and take your pick of plant-based milk options, from soya to oat, cashew to hazelnut. Vegan condensed milk isn't quite so easily found on supermarket shelves, but that's not to say that it doesn't exist!
Whether you're a plant-based baker or you simply miss the sweetness and creaminess of this delicious ingredient, check out our guide to finding, buying and making vegan condensed milk. We've even shared a few tempting recipes to help you make your favourite puddings without a drop of dairy.
All you need to know about vegan condensed milk.
Where to Buy Carnation's Vegan Condensed Milk
When it comes to buying vegan condensed milk, it's fair to say that your options are fairly limited. However, thanks to Carnation – a brand best known for selling evaporated milk – vegan condensed milk isn't just available, but easily accessible.
Carnation's vegan condensed milk – from Nestlé – is produced from a blend of rice and oat flour and can be used to bring an oh-so-tempting creaminess and fudge-like consistency to cheesecake, millionaire shortbread, banoffee pie and much more. It's both gluten-free and vegan, and even sports the Vegan Trademark – the well-known and widely trusted stamp from the Vegan Society.
You can buy Carnation's vegan condensed milk from all major UK supermarkets, including Asda, Sainsbury's, Waitrose, Tesco, Morrisons and Ocado. Plus, it's quick and simple to buy a 370g tin from Amazon and have it delivered straight to your doorstep!
Carnation's vegan condensed milk isn't the only plant-based product from Nestlé. In the summer of 2021, vegans across the world were delighted by the launch of the long-awaited KitKat V, Nestlé's dairy-free version of its classic KitKat chocolate bar.
Vegan Condensed Milk Alternatives
If you can't get your hands on Carnation's vegan condensed milk, or you fancy supporting a smaller brand, there are a couple of alternatives you should know about. Check them out here!
Nature's Charm Sweetened Condensed Coconut Milk
This velvety condensed coconut milk from Nature's Charm is a great alternative to condensed milk, offering a similar consistency and all the sweetness you might expect from traditional recipes. What's more, it's also infused with calcium carbonate, meaning it'll count towards your daily recommended calcium intake. It's a win-win! 
You can get your hands on this tasty product here.
Biona Organic Sweetened Condensed Coconut Milk
This dairy-free condensed milk only has two ingredients – coconut milk and cane sugar. It can be used in all the same recipes as traditional condensed milk but contains significantly less sugar than Carnation's original product.
You can typically buy Biona Organic products in supermarkets, delis and health shops, such as Holland & Barrett. Alternatively, you can get your hands on its condensed coconut milk online here.
How to Make Vegan Condensed Milk
Wondering how to make vegan condensed milk at home? We've scoured the internet to find the quickest and simplest way! Truthfully, it's probably easier to buy a tin from your local supermarket or on Amazon – but if you'd like to flex your culinary skills, making your own dairy-free condensed milk doesn't have to be difficult.
According to this two-ingredient recipe from Karissa's Vegan Kitchen, you just need full-fat coconut milk and granulated sugar. Once you've mixed the two together, you bring the pan to a boil and then allow it to simmer for just under an hour. Sounds pretty straightforward, doesn't it? You can check out the full recipe and instructions here.
Vegan Condensed Milk Recipes
Whether you've decided to buy Carnation's vegan condensed milk, chosen another alternative, or rolled up your sleeves and made your own, there's no doubt that the best thing about this sweet treat is actually eating it. If you can stop yourself from spooning it into your mouth directly from the tin, you'll find plenty of great vegan condensed milk recipes that are sure to tantalise your taste buds.
Here are some of our favourite ways to cook and bake with dairy-free condensed milk.
Fudge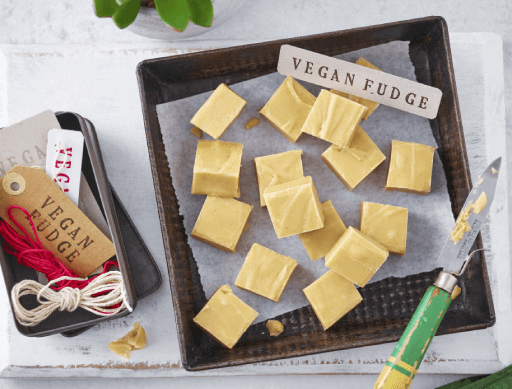 Fudge is one of the dreamiest sweets we can think of! Unfortunately, not all fudge is vegan, often because it contains two very non-vegan ingredients – condensed milk and butter. Luckily, vegan butter is quick and easy to find in most supermarkets, and you've now got a range of options for buying or making vegan condensed milk at your fingertips.
Carnation has you covered when it comes to making vegan fudge, with its five-ingredient recipe that takes less than an hour to prepare and cook (and serves up to 36 people). In fact, Carnation has a long list of vegan condensed milk recipes to choose from, which you can find here.
Cheesecake
Cheesecake is another dish you don't need to miss out on, all thanks to vegan condensed milk. There are multiple ways to make plant-based cheesecake – with condensed milk and without – but it certainly offers a creamier, more caramel-like flavour when it's made with.
This lemon cheesecake recipe from charity Veganuary uses condensed coconut milk, so you can get started with one of the brands we've mentioned previously. Fresh, zesty and deliciously dairy-free, we know you'll love every bite of this vegan cheesecake.
Banoffee pie
If you're a fan of bananas, caramel and cream (and who isn't?) then you'll be pleased to know that banoffee pie can be made vegan with just a few simple ingredient swaps. You only need a handful of ingredients to make this particular recipe, including vegan condensed milk and cream.
---
Nowadays, vegan baking ingredients are fairly easy to buy in most supermarkets. Nevertheless, you can also check out our helpful guide here with all our recommended substitutes for some of the most common baking ingredients, from butter to eggs and honey.
Have you tried Nestlé's vegan condensed milk? Do you have any other great brands you'd like to recommend or delicious recipes that we should check out? We want to hear from you! Get in touch to let us know what you think.