Whether you're a Liverpool local or you're visiting for a weekend of art, history, and entertainment, you'll be pleased to know that this bustling UK city is a hotspot for vegan cuisine. You'll find some truly incredible vegan restaurants (alongside plenty of vegetarian and vegan-friendly options) throughout Liverpool, so you'll never go hungry in this culture-rich city.
Eight must-visit vegan & vegan-friendly restaurants in Liverpool
To help you cut to the chase and head straight to some of Liverpool's very best vegan and vegan-friendly restaurants, we've compiled a list below. Whether you're in the mood for nutritious, plant-based food or naughty-but-nice junk, find exactly what you're looking for with our list of the best vegan eateries.
Down the Hatch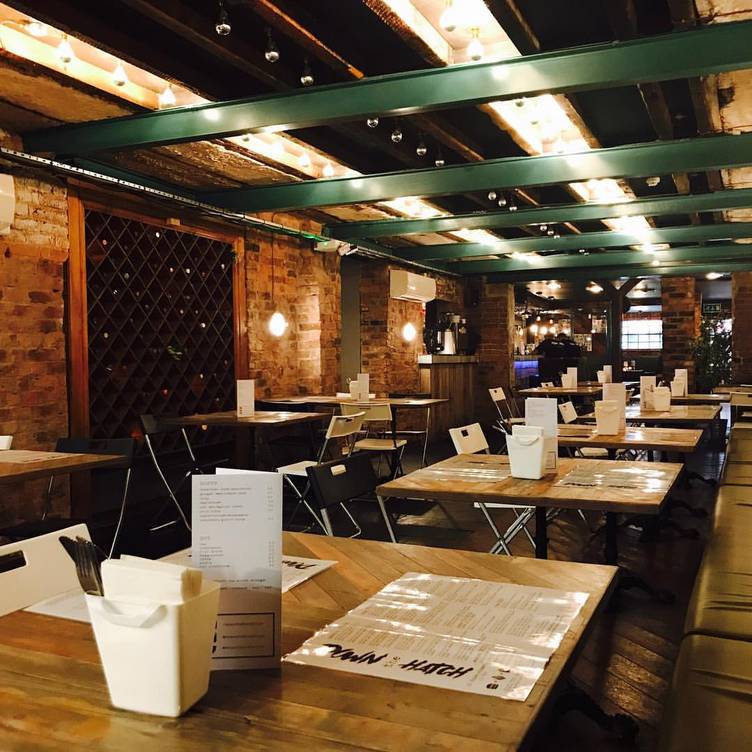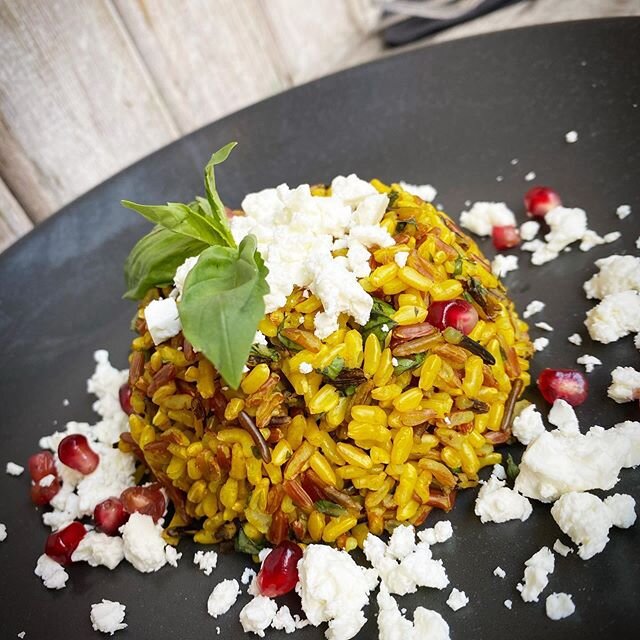 Down the Hatch, one of Liverpool's favourite vegetarian and vegan restaurants, is a must-visit while you're in the city. With a menu full to the brim of delicious goodies, including gluten-free options (and even a kids' menu), you'll be spoilt for choice. Will you opt for the King Katsu Burger with curry sauce and red chillies, or a steaming bowl of meat-free Hearty Scouse? Whatever you choose, you can bet the portions will be more than generous – large dishes are always on the menu at Down the Hatch!

What are you waiting for? Check out their full menu here.
Veggie Republic
Are you in the mood for Middle Eastern cuisine, or passionate about Pan Asian dishes? Whatever your favourite food, you'll find it at Veggie Republic! We're not exaggerating when we call Veggie Republic one of the best vegan restaurants in Liverpool; with such a diverse menu, there truly is something for everyone. From Aubergine Mousse to Peruvian Lentils and Hoisin "Duck" Bao Buns, there's no shortage of dishes inspired by global cuisines at Veggie Republic.
You can take a sneak peek at some of Veggie Republic's tastiest dishes here.
The Vibe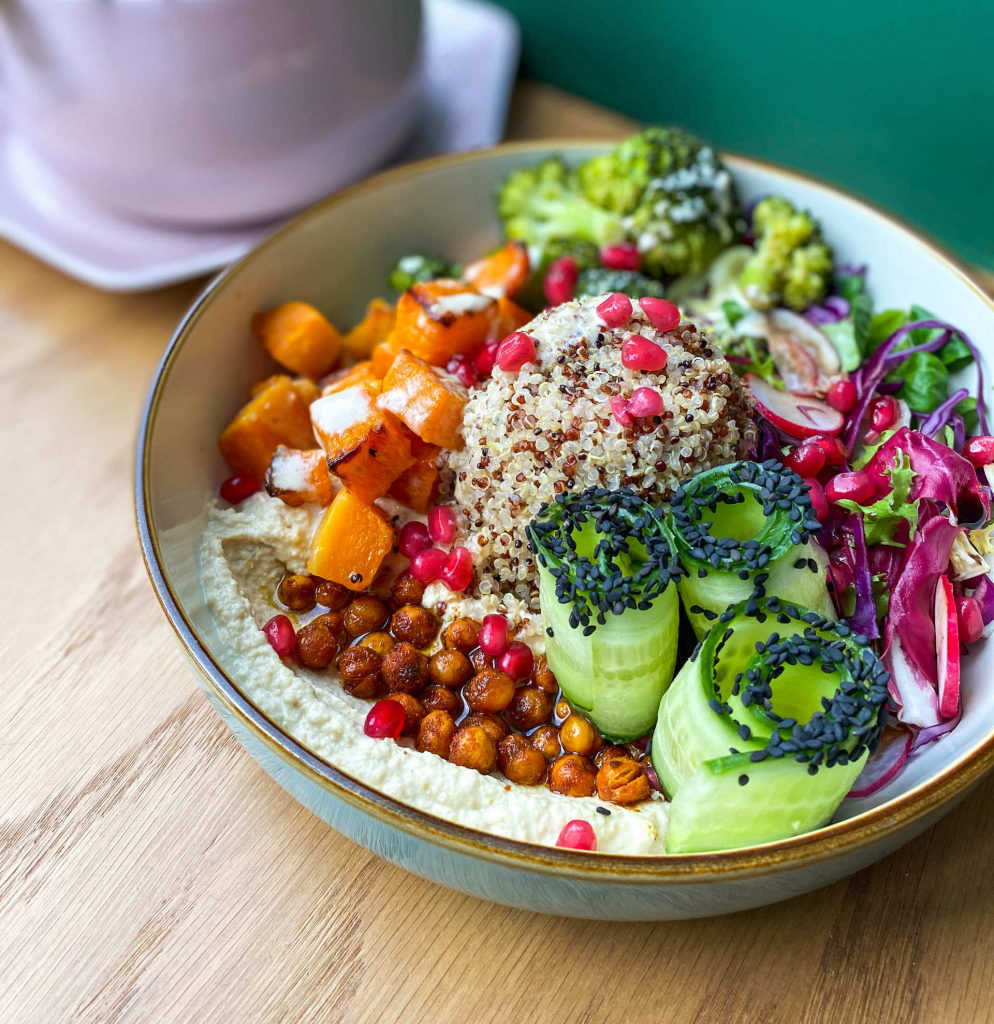 The only thing better than a plant-based café is one that's family-run! If you love feasting on incredible vegan food and supporting independent businesses, dining at The Vibe is a must. This laid-back hangout serves a selection of yummy breakfast, lunch, and light bite dishes, and describes itself as serving "an experience for the mind, body and soul". Here, you can enjoy dishes like Veggs Benny (vegan poached eggs with jackfruit) and Chickpea 'Tuna' Melt toasties.
Go on, take a look at what's on offer at The Vibe to start planning your visit!
Sanskruti
Searching for vegan Indian restaurants in Liverpool? We've got you covered. Sanskruti serves a wide selection of authentic Indian dishes, minus the meat, with plenty of vegetarian and vegan options to tickle your taste buds. From Tofu Makhani to Masala Dosa, you'll enjoy the real taste of India here – with what Sanskruti describes as "the perfect marriage of aromatic herbs and spices". This cosy, vegan-friendly restaurant is perfect for every occasion, whether you live in Liverpool or you're simply visiting for a weekend away with friends.
You can feast your eyes on the mouth-watering options on offer at Sanskruti here!
Frost Burgers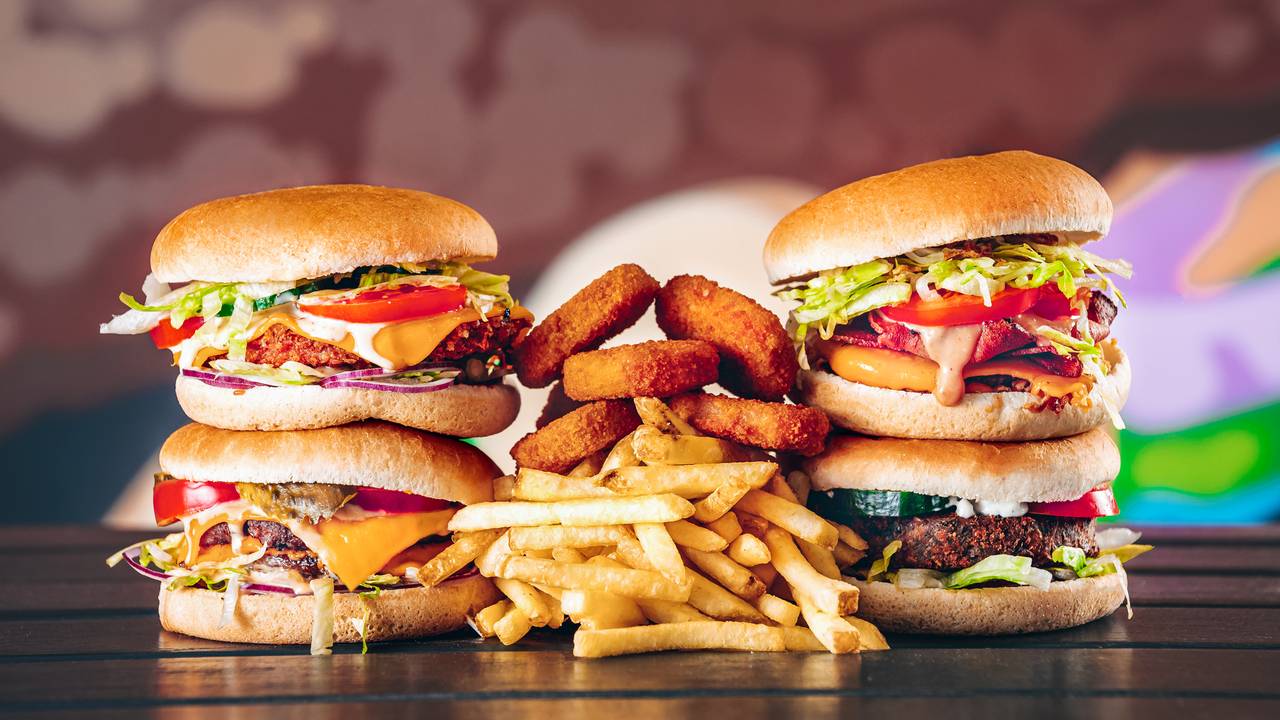 Burger fans, you'll love Frost Burgers – a 100% vegan kitchen offering every topping combination you could dream of! Maybe you're in the mood for a Garlic Mayo Chicken Free, or perhaps you've got a hankering for the fiery Scorpion with chipotle paste. Whatever dish you're craving, Frost Burgers promises to deliver. With a menu of street food-style burgers and housemade sauces, you'll find everything you need for the ultimate night of comfort food at this hangout founded by tattoo model, Monami Frost.
You only need to scroll through the Frost Burgers Instagram page to see how moreish their dishes look!
Guac 'n' Roll Kitchen
If you couldn't guess by the name, there's an element of rock and roll to this punky vegan restaurant! Flavoursome burgers and experimental small plates are on the menu at Guac 'n' Roll Kitchen, from onion rings with an irresistible salt 'n' pepper batter to Vietnamese-style sandwiches packed full of tasty fillings. This is a super fun place to dine, whether you're looking for a perfectly Instagrammable lunch or dinner with friends.
You're bound to fall in love with the menu at Guac 'n' Roll. Just take a look at the dishes on offer here!
Egg Café
The name may not sound very vegan, but Egg Café actually serves up some of the most delicious plant-based food in Liverpool! This vegan-friendly restaurant prides itself on preparing nutritious and sustainable food options, with a commitment to sourcing ingredients from local suppliers where possible. So, if you're looking for a restaurant that'll do wonders for your taste buds and the planet, Egg Café ticks all the boxes! Why not give your morning a boost with their full English breakfast (which can be adapted to suit your dietary needs) or a hearty Sunday roast?
You deserve a treat, so why not stop by at Egg Café next time you're in Liverpool? You can check out their menu here.
Yukti
Love Indian food? So do we! That's why we're so happy to have found Yukti, a vegan-friendly Indian restaurant in the heart of Liverpool. Although the menu at Yukti isn't exclusively vegetarian or vegan, there are plenty of clearly labelled options to choose from. How about tucking into a plate of Grilled Pineapple Stuffed Mushrooms or serving of Aloo and Double Bean Roast? Our mouths are watering at the thought.
If Yukti sounds like your cup of tea, you can browse the full menu here!
Here at Vegomm, we're committed to connecting vegans and non-vegans alike to the best vegan-friendly restaurants in Liverpool and beyond. Do you have any recommendations to add to the list? We're always looking for new places to check out, so please don't hesitate to let us know.

And, if you're exploring the north of England, don't forget to check out the rest of our vegan restaurant guides! We've already listed our favourite eateries in Leeds, Edinburgh, Sheffield, and Newcastle…Where shall we go next?