Whether you've been vegan for as long as you can remember or you're simply curious about the lifestyle and ready to start adopting a plant-based diet, getting to grips with vegan and cruelty-free shopping is key. Remember – even the most passionate, long-term vegans sometimes get confused between the many vegan and non-vegan goods at the supermarket!
However, once you've figured out what vegan symbols to look out for, it'll be much easier and quicker to shop for vegan and cruelty-free products. There are lots of great ones out there – it's just about finding them!
Trustworthy Vegan Symbols in the UK
When you buy a product that has been accredited by a third-party vegan organisation, it'll show a symbol demonstrating that it meets their criteria. This gives you the level of confidence you need that it doesn't contain animal products.

So, which symbols should you look out for when shopping for vegan items?
The Vegan Trademark
The Vegan Trademark is probably the most widely recognised vegan-friendly symbol in the UK. It's the official sign of products regulated by The Vegan Society and has been used since 1990. You'll see the Vegan Trademark on almost 60,000 products, including consumables, toiletries, items of clothing and much more.
You can read more about the Vegan Society, the world's oldest and most trusted vegan organisation, and learn all about its Vegan Trademark here.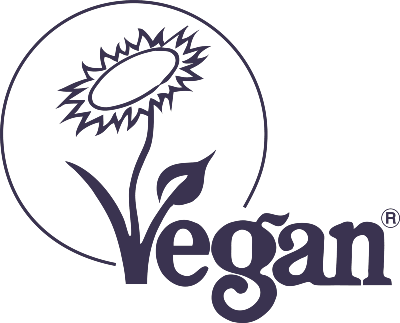 Vegetarian Society Vegan Approved
The Vegetarian Society, which focuses on all things vegetarian and vegan, has been promoting the plant-based lifestyle since 1847!  Today, it does so with two plant-based symbols – the Vegetarian Society Approved Vegetarian and the Vegetarian Society Approved Vegan.
It's important not to get the two confused, but luckily they're fairly easy to tell apart. Simply look out for the word 'vegan' to distinguish between the two symbols with ease!  You can take a look at the two logos and read about their differences in more detail here.
PETA-Approved Vegan
PETA has a larger presence in North America than the UK, but that's not to say that its PETA-Approved Vegan symbol isn't common here. You'll spot it on a range of products including clothing, shoes, accessories and pieces of furniture.
It's worth noting that the PETA-Approved Vegan symbol is used less commonly on food products, but PETA does regularly update its website with food-related news. For instance, you can take a look at the winners of the PETA UK Vegan Food Awards 2021 here.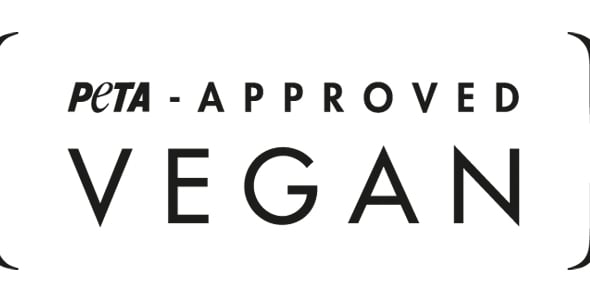 Certified Vegan
Certified Vegan is a North American accreditation, however, it's worth knowing about if you regularly import treats from the United States or beyond. The Certified Vegan stamp has been given to thousands of products across North America and is used to highlight that a product is free from animal ingredients, animal-based GMOs or animal testing. You can read all about the Certified Vegan symbol here.
Cruelty-free vs Vegan-friendly Symbols
It's important to note that "cruelty-free" and "vegan" don't necessarily mean the same thing. For instance, the term "cruelty-free" is often used to show that a product hasn't been tested on animals – but it doesn't always mean that it's free from animal-derived products. Knowing this distinction is important to ensure you don't confuse cruelty-free accreditations, such as the Leaping Bunny or Cruelty Free International, with vegan accreditations.
VS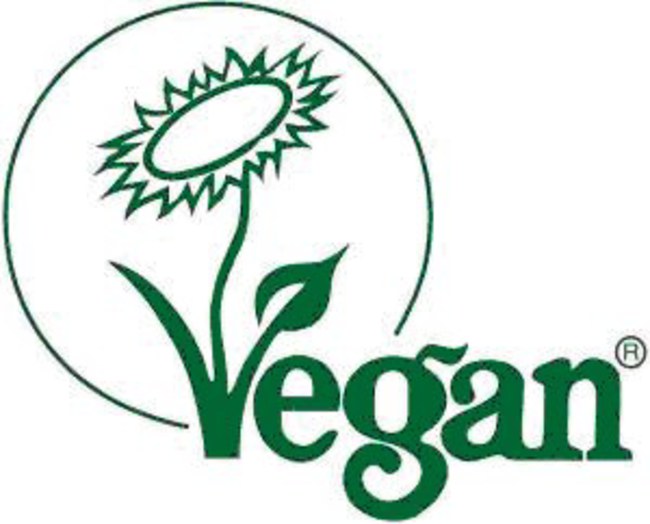 Please also note that some companies will create similar-looking logos to brand their products, even if they haven't been approved by a third party. These may not always be easy to spot, so be wary of any symbols that you haven't seen before when buying vegan or cruelty-free products.
Non-accredited Vegan Symbols
In addition to these accredited symbols for vegan goodies, many supermarkets have plant-based ranges with their own vegan stickers. For instance, many will use a green 'VE' or 'VG' to indicate that a product is vegan. A plain 'V' typically means that a product is vegetarian.
Unfortunately, some products are labelled incorrectly. Take these sweets from Urban Outfitters, for example. Despite being labelled vegan, the sweets actually contain beef and pork gelatine.
If you want to be sure whether a product is truly vegan, it's always a good idea to look for an official third-party logo or check the ingredients list with a fine-tooth comb.
Accidentally Vegan Products
Remember – not all products in the UK are labelled with dietary information. As a result, you may stumble across what we call "accidentally vegan" items. These products don't contain any animal ingredients but aren't branded with accredited symbols for vegan consumers to spot easily.

Below, check out some of our favourite accidentally vegan treats!*
Jus-Rol Pain au Chocolat and Cinnamon Swirls
These simple-to-make baked goods are a must-have. With these in the fridge, you'll always have a delicious breakfast option to hand.
Oreos
Many Oreo flavours are accidentally vegan, meaning you can tuck into these delicious biscuits without worrying. You can check out our blog on vegan Oreos here!
Party Rings
On the theme of biscuits, we can't forget to mention Party Rings! These retro snacks are ideal for enjoying at parties or dunking in a cup of tea.
Skittles
If you've got a sweet tooth, you'll be pleased to know that many flavours of Skittles are suitable for vegans. You can also find a whole list of vegan sweets here!
Pot Noodle
Fancy a quick snack? Many Pot Noodle flavours are accidentally vegan, including Bombay Bad Boy, Sticky Rib and Piri Piri Chicken.
*Please note that manufacturers may change their recipes without warning. It's always important to double-check before you eat or use a product that isn't branded with a vegan-friendly symbol.
You can also follow the Accidentally Vegan Instagram page for regular food updates. Here, you'll find a whole community of vegans sharing their favourite goodies!
At Vegomm, we've made it our mission to connect you to the most accurate and up to date information about veganism, with everything from restaurant guides to product recommendations to explore. We love hearing from other members of the vegan community, so don't hesitate to get in touch!